Located on 600 linear feet of pristine beachfront, The Residences at 1 Hotel & Homes South Beach are designed to be both beautiful and comfortable, with all the conveniences of a luxury hotel.

"1 Hotel & Homes South Beach was created around one simple idea – the world is beautiful and we want to keep it that way," Barry Sternlicht; CEO, 1 Hotels Inspired by nature, 1 Homes seamlessly translates the sensory experience of its oceanfront environment into stunning spaces brought to life by internationally renowned Brazilian interior designer Debora Aguiar.

The celebration of living on the ocean is expressed through the graceful twist of driftwood furnishings, the abundance of plant life, and the continuous feeling of ocean breezes and sunlight sweeping through oversized windows and terraces.

Owners enjoy all the privileges and conveniences of resort living at this LEED certified property while having access to four elevated oceanfront swimming pools, an onsite SoulCycle studio, a 18,000-square-foot Bamford Haybarn Spa and Anatomy fitness center, priority seating at three exceptional restaurants and bars from award-winning chefs, and a stylish rooftop pool and restaurant-bar with panoramic views of the Atlantic Ocean and Miami skyline.
Bedrooms

1-4

Year Built

2015

Units

155

Stories

17

Average Price SqFt

$0

Average Days on Market

0

City

Aventura
Amenities at 1 Hotel & Homes South Beach
4 Swimming Pools/Hot Tub; including rooftop pool
14,000 SqFt Gym and Spa
600 Linear feet of Oceanfront
24 hour In-room dining, Catering and Private chef services
Access to all Hotel Amenities and Services
Beach and Pool Service
Beach and Pool Service
Chauffeured Car Service, 24 hour Concierge,
On-demand maintenance services
Personal Shopping, delivery services
Pre-arrival kitchen and pantry stocking
Valet Parking and Bellman services
1 Hotel & Homes South Beach FLOORPLANS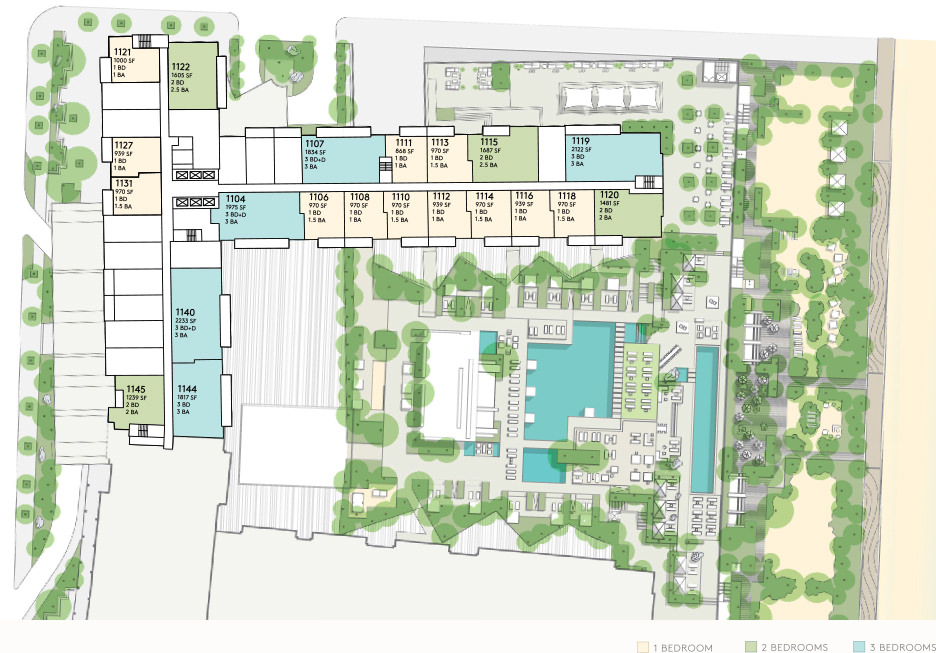 Model
Line

B/B/H

Beds/Baths/Half Bath

Size SQ FT Inside
Size M2 Inside
Floorplans
PH
1708
3/3/1
2,543
236.3
Download
PH
1707
3/3/1
2,529
235
Download
PH
1706
3/3/1
2,552
237.1
Download
PH
1621
2/2/1
1,965
182.6
Download
PH
1617
3/3/1
2,781
258.4
Download
PH
1615
2/2/0
1,694
157.4
Download
PH
1606
3/3/1
1,907
177.2
Download
PH
1605
3/3/0
2,149
199.6
Download
PH
1604
3/3/1
1,907
177.2
Download
Residence
920,1020,1120,1220,1420,1520
2/2/0
1,481
137.6
Download
Residence
1440
3/3/0
2,233
207.5
Download
2 Bed 2.5 Baths
922,1022,1122,1222,1422,1522
2/2/1
1605
149.1
Download
1 Bed 1 Bath
04, 08, 16, 27,44 (Floors 9-15)
1/1/0
939
87.2
Download
1 Bed 1.5 Bath
06, 10, 14, 13, 18, 31(Floors 9-15)
1/1/1
970
90.1
Download
1 Bed 1Bath
21 (9 to 15 floors)
1/1/0
1000
92.9
Download
1 Bed 1 Bath
08,12,16,27,04,44 (Floors 9-15)
1/1/0
939
87.2
Download
1 Bed 1 Bath
02/ 902-1502
1/1/0
1036
96.2
Download
2 Bed 2.5 Bath + Den
PH 1607
2/2/1
2143
210.9
Download
2 Bed 2.5 Bath
PH 1704
2/2/1
1928
179.1
Download
Residence 1104
1104
3/3/0
1975
183.5
Download
3 Bed 3 Bath + Den
1404
3/3/0
1975
183.5
Download
Residence 1415
1415,1515
3/3/0
2434
226.1
Download
Residence 1504
1504
3/3/0
1975
183.5
Download
3 Bed 3.5 Bath
PH 1602
3/3/1
1950
181.2
Download
3 Bed 3.5 Bath + Den
PH 1612
3/3/1
2548
236.7
Download
3 Bed 3.5 Bath
PH 1609
3/3/1
3557
330.5
Download
4 Bed 5.5 Bath
PH 1610
4/5/1
3955
367.4
Download
4 Bed 4.5 Bath + Den
PH 1701
4/4/1
4207
390.8
Download
4 Bed 3.5 Bath
PH 1717
4/3/1
3278
304.5
Download
3 Beds , 3 Baths
1044,1144,1244,1444,1544
3/3/0
1817
168.8
Download